About Diamond Show Poodles
We are husband and wife hobby breeders, breeding couture standard poodles, for the love of the breed. Our poodles are large standard poodles (Royal Standards). We breed one litter per year to the AKC standard. We focus on temperament, good bone substance, low inbreeding (COI), excellent conformation and beauty. We specialize in the rare colors, of Blue (Black), Cafe au Lait's, (Brown), Champagnes, Apricot, and Creams.
Our puppies are generationally fed a raw species-appropriate diet for optimum health and the prevention of genetic diseases and disorders. Commercially fed dogs may develop autoimmune diseases, causing hip dysplasia, diabetes, seizures, skin, behavior disorders, and more.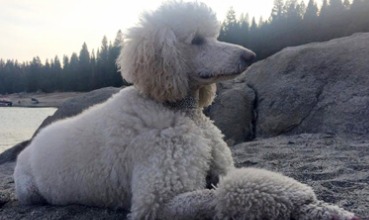 Our pups will show in conformation, obedience, agility, and track and field. Special attention to training from birth and around the clock care creates the foundation for the advanced learning ability, and early training gives our most prestigious clients advanced pups ahead of the class. Our puppies are well socialized with children, cats, and other dogs. All of our puppies are raised in our home and are part of our family, we love them dearly.
Puppies are temperament tested at 7 weeks of age for puppy placement. It is our desire that each puppy goes into the home it is intended for.
Health Guarantee * We Do Not Ship
We utilize early neurological stimulation with our very young puppies, for advanced development. Training begins at 3 days old developing "high achievers" using "Bio Sensor" stimulation. We practice breeding for show, service, obedience, agility, track and fieldwork, health, and temperament for premium pets.
Our puppies are placed in their new home with fully vaccinated, (we abide by the Dodd's protocol of minimal vaccinations). Rabies Challenge Fund, Tails docked, dewclaws removed, wormed as needed, fully groomed several times, proficient at using a doggie door, and ready to be your fabulous forever best friend. Our focus is to ensure that our puppy finds its way to the perfect home and that you, and your new family member, have a long and loving life together. I am available for questions, support, and feedback for the life of your puppy. Please call us if you are interested in acquiring one of our babies. We are happy to supply a number of excellent references for you to contact. Older puppies with advanced training available on special request! Please contact us directly at (559) 892-1646.
Diamond Poodles High Achievers!
Poodles are born to be part of the family, with gentle nature and even temperaments. Early stimulation training from 3 days old prepares them for fieldwork, service, obedience, agility, and the show ring.
For the Love of Your Poodle
Diamond Show Poodles is a boutique poodle breeder in Fresno offering advanced puppies. Puppies are trained from birth using a professional training program that includes Bio-Sensor early neurological stimulation and puppy culture. We believe that this rare opportunity in the first 12 weeks of a puppy's life is the most important for laying the foundation of early enrichment. During this Neonatal period, if you stimulate the neurological system of a puppy, you can shape the puppy for the rest of his life. This early training opportunity can only be achieved during these few precious weeks, resulting in greater tolerance of stress greater resistance to disease, faster adrenal system, and a stronger heart rate and heartbeat.